How We Began ...
Ukraine was a distant place until, like most, we heard of bombs and tragedy, loss of life and loss of innocence for millions. Refugees both inside and outside of Ukraine, fleeing for their lives and for some, losing the race.
For years, we have had contact with people on the ground, within Ukraine, who have been involved in humanitarian outreach. These people have now gone into overdrive, knowing that they are best positioned to deliver assistance exactly where it is needed.
He Had Compassion is an upstart group of people who have dedicated ourselves to lending a hand. We have, thus far (June 30, 2022) participated in the distribution of over 24 tons of food, water, medicine and hygiene supplies to communities in or near each of Kharkiv, Chernihiv, Mykolaiv and Zaporizhzhia.
Trips are made using vans and small busses with the seats removed, carrying about 1800 kg's of supplies each trip, and travelling up to700 km's each way to take the food near the conflict, where need is the greatest.
The House of 64
On one such trip, we came across a farmhouse that had evidence of activity. Taking a closer look, we found 64 people living there - refugees from four different cities in the east of the country - nearly all of them women with children. We dropped off what we had left with us, and returned later with a bigger load. We have now committed to supplying this house for as long as it takes, each week dropping off $1,000 - $1,200 of food and supplies.
What Else Are We Doing?
We've paid for vehicle repairs. We've paid for an eye operation for a man in desperate need. We've provided shelter for a mother and daughter who were 3 weeks on the road in search of refuge, providing food, medical care and respite from the war.
You Can Help
We are uniquely positioned. Through generous sponsorship, we can guarantee to all who contribute, that 100% of the funds contributed will make it into service, on the ground in Ukraine. No credit card charges, no wire transfer fees and and no admin fees of any kind. All those normal costs have been waived, discounted or covered by others. Further you will receive a charitable donation receipt for income tax purposes. Receipts are issued by International Christian Mission Services, of which He Had Compassion is a member.
Finally, when donating, if you choose to provide your email address, we will keep you updated with occasional emails, not more than monthly, and you can always check for updates on this website.
He Had Compassion ... is a reference to the well-known story of the Good Samaritan, who chose to stop and lend a hand, though others passed by.
Please consider donating today.
---
A Step In Faith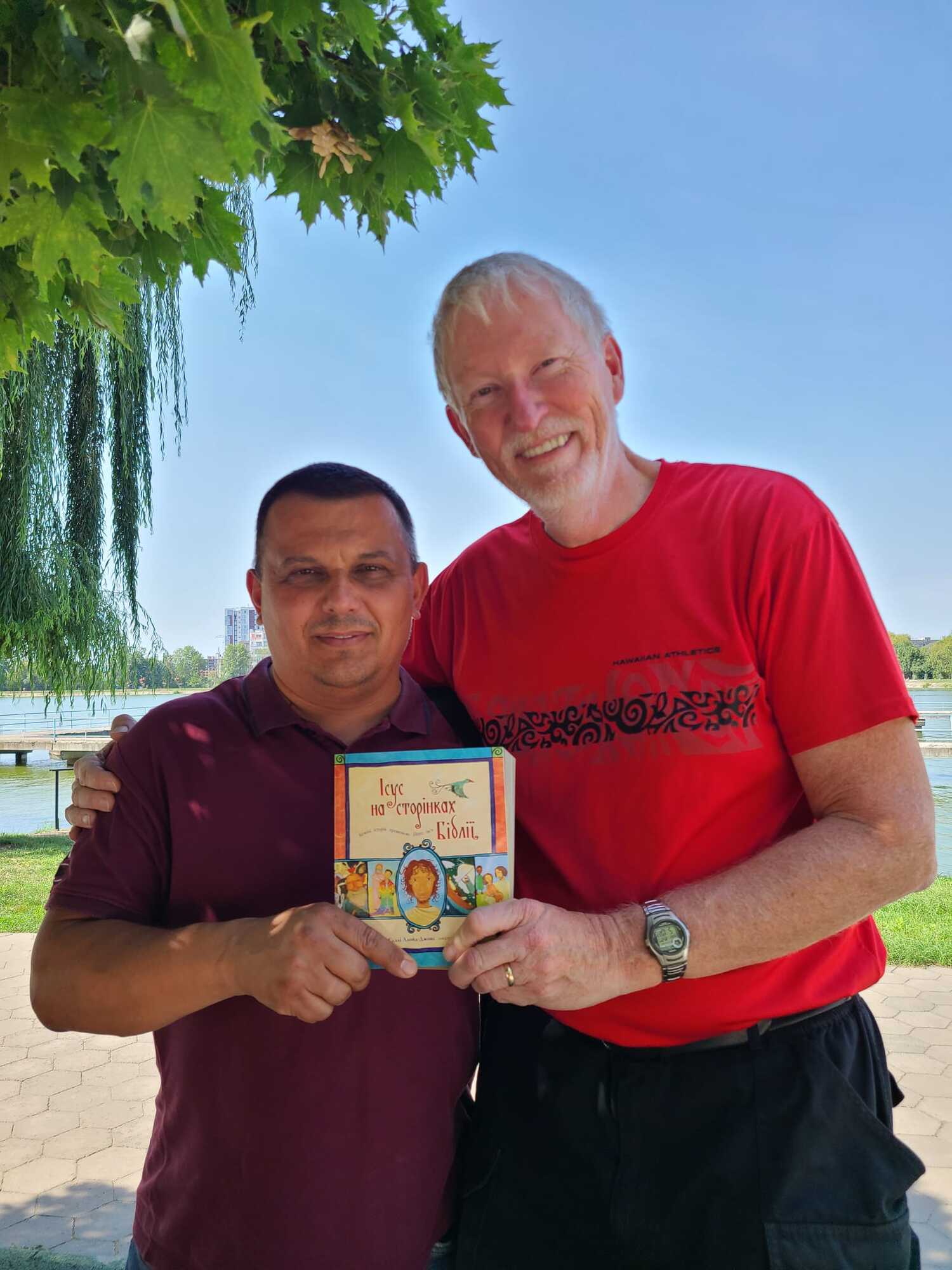 This summer, a member of our team made a trip to Ukraine, in order to better understand the needs and to connect with those in need. What follows are edited versions of his reports back home, forming a diary of events during his time there. His initial flight was to Germany, where he met up with Pastor Oleg and family.
His first note home registered some concern, as they travelled through Poland, toward Ukraine:
---
August 23, 2022
The US State Dept has in the last few hours, issued an urgent request for all US citizens to leave Ukraine now, if they possibly can.

Here's a link to the story (might be a paywall)
https://www.theglobeandmail.com/world/article-us-urges-citizens-to-leave-ukraine-as-fears-grow-of-russian-attacks-on/

Meanwhile, we are driving 130 kmh east toward Ukraine ... Oleg must go back home, under order of the govt. We will not get to Ukraine until tomorrow morning and will re-evaluate at that time, but I think we are likely to go in for reasons above ... but Oleg and I have already made plans for me to drive his family back out, in the event that becomes urgent.

Given the assassination near Moscow on the weekend, and now this order by the US government, almost certainly informed by State Dept resources, a potential for trouble may await.
---
August 24
Oleg, Iryna, Diana and I, as well as Oleg's mother and father and Iryna's father, entered Ukraine mid-day yesterday, Independence Day.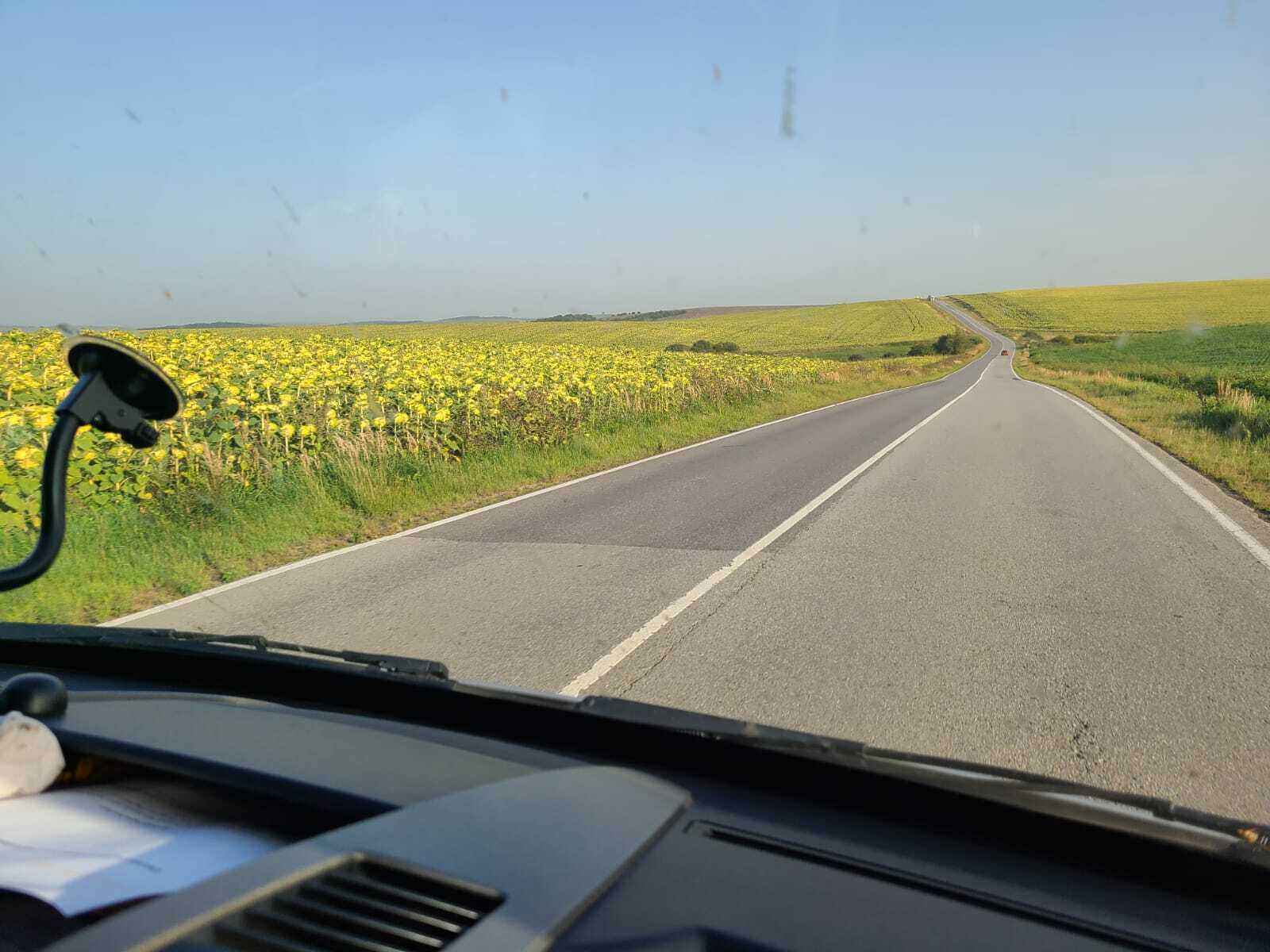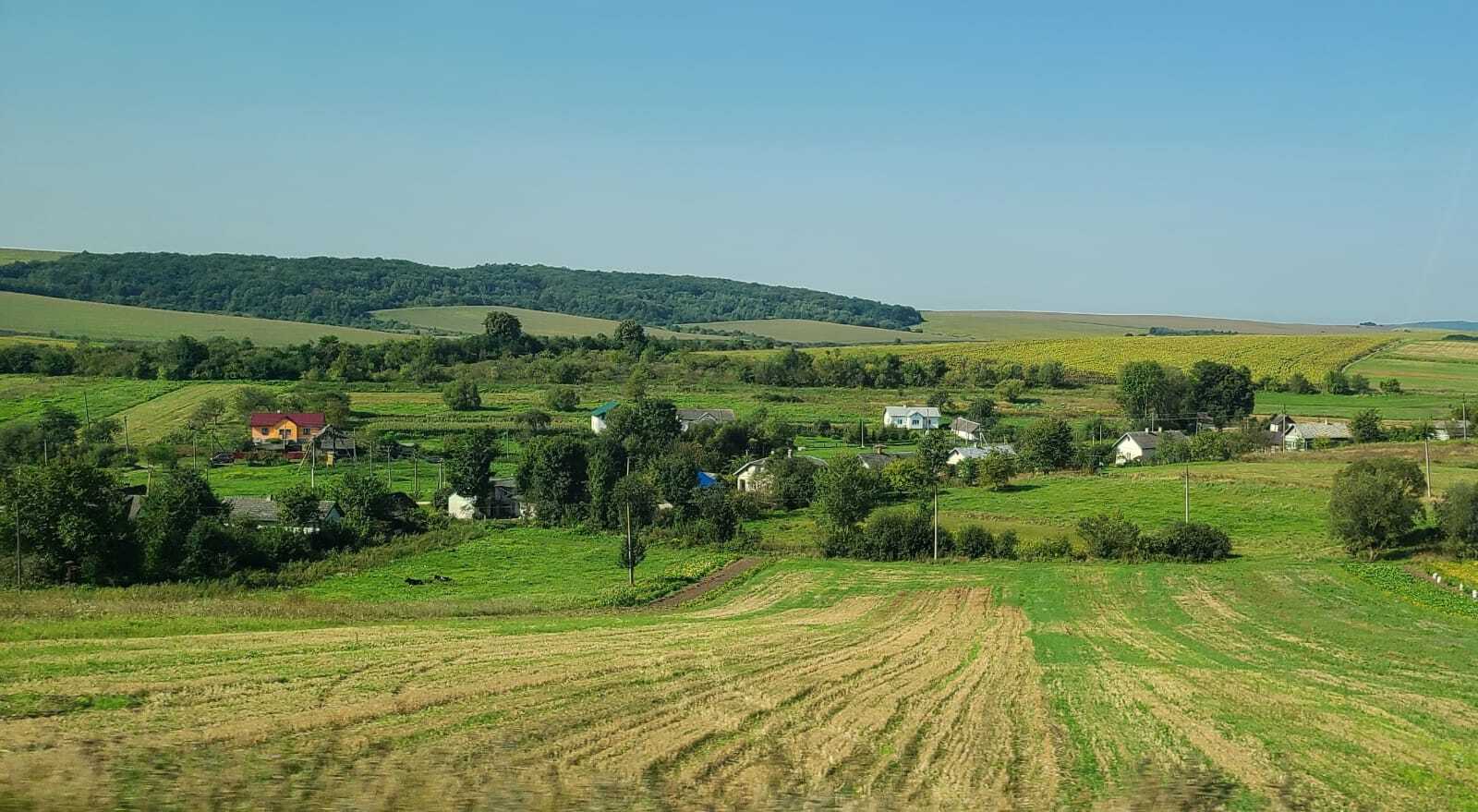 The border crossing going in was very light traffic with a line in front of us of about five cars. After crossing in, we observed a line of traffic heading west, out of the country that was at least 15 km's long.

We drove to Lviv where we stopped at a family favourite: a fast-food perogy restaurant at a shopping mall. As we were loading plates of food, the mall was ordered to be evacuated.

The young staff in the restaurant quickly loaded our food into containers to quickly pay and go. We were directed to exit through a parking garage, where we sat on concrete barriers and ate our food, before getting back in our vehicle to continue south to our ultimate destination: Ivano-Frankivsk.

We learned later of that day's missile target - a train station, with devastating results for 24 souls.

Such is what passes for normal in this nation of people who seek only what others have: to live free.

We took the family elders to their home in the countryside, where Oleg was born and raised. We spent an hour there as they settled in and Oleg showed me around. A beautiful rural property with a bounty of fruit, vegetables, honey and more ... that was ready for harvest.

We arrived at Oleg and Iryna's home just south of Ivano as the last light of day faded away.

After two long days' travel from Minden, Germany, the family was so very glad to be home.

Today begins our first full day in Ivano. We are safe, healthy and looking forward to the day.
---
August 27
A wee update for those who would pray for these, our friends in Ukraine ...

In my life, I have only ever heard jet fighter aircraft at air shows. Last night, we prayed as we heard them go over, knowing that they were heading into the "danger zone."

Today we read that last night, the Ukrainian Air Force took out another Russian command post and an ammunition dump.

The morality of war and how to pray are philosophical conversations for us in the West, but those notes are written in blood in the midst of battle.

On Friday evening, we attended a prayer meeting at the church.

Of the prayer requests, there was a family who prayed for the safe return of their son, a young man of 22, serving in the military.

As the translation was clarified, we learned that their son had been killed in battle ... and that the prayer request ... was for the safe return of his body.

We learned that the church worship leader was recently called up to serve, and released when it was determined that he had a heart condition.

As the war has progressed, he has been called up once again. Outcome: TBD.

Two other families present asked for prayer for family members, also recently called to serve.

And finally, a man, a refugee from Kharkiv, has been in Ivano for six months, since the early days of the war. He had sent his wife on to Germany to stay with relatives though his wife's health is poor. He is not sure when or if he will see her again. An older man, he has work here and is asking God to protect his family and to give him strength to endure. This story, he translated directly to me, using my phone to give me the details.

After the meeting, we returned home, shared a bowl of soup and prayed.

One needs time to ponder these things. Life happens quickly here ... and is, at the same moment, frozen in time.

People ask "when will life go back to normal?" I think the answer is that, no matter the outcome of the war, there is no going back. Ukraine will go forward into a new reality. A clearer definition of nationhood. Harder lines drawn. More patriotic. More people drawn to faith and understanding of eternal truths ... what defines us collectively and individually ... and the difference one person can make.

You can make a difference ... by praying for these people. Pray for wisdom, patience, courage, protection from aggression and from discouragement, both from without and within.

Finally, pray for many to come to the saving knowledge and grace of Jesus Christ.

I understand anew ... that it is our only hope.

Ian
---
Also August 27
Privately to you, R ...

I have been asked in four different settings in Ukraine ... if I'm not too afraid to be here. I asked Oleg: are there no other foreigners around here?

He responded: No. They all left.

A bit unsettling, that.

And yet, I do not feel it unwise to be here. These people are incredibly grateful that I'm here. The entire group of those at the prayer meeting welcomed me enthusiastically, and thanked me for being here.

Just thoughts ...
Ian
---
August 30
Sunday was a good day in the church as Pastor Oleg preached. The entire service was filled with warm fellowship, good teaching, meaningful prayer, and a warm connection to those who were in need of a fresh touch from God. Worship was particularly beautiful and warmed the heart.

And in the midst of this, we learned during prayer time of one more family who had, during that week, lost a son to war. The outpouring of grief, while measured is heart-felt ... for those who have suffered loss ... and in silent anticipation of similar news likely to come for others.

On Monday and Tuesday we went shopping at various "wholesalers" for all kinds of goods to take to the east. Dry goods: flour, sugar, salt, pasta, corn meal, oatmeal, cracked wheat, oil, jars of tomato paste and sauce, spices, and cases of canned beef, chicken, fish and more. We bought cleaners, soaps, hygiene products, hand lotion and bathroom supplies.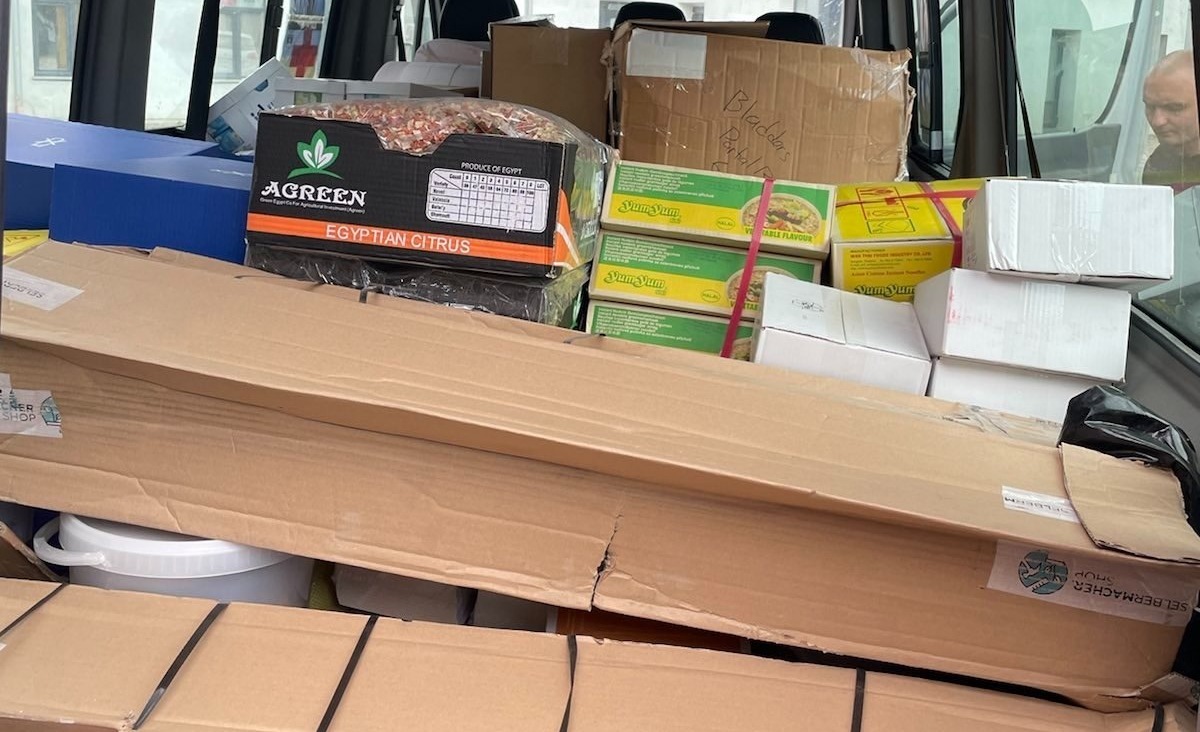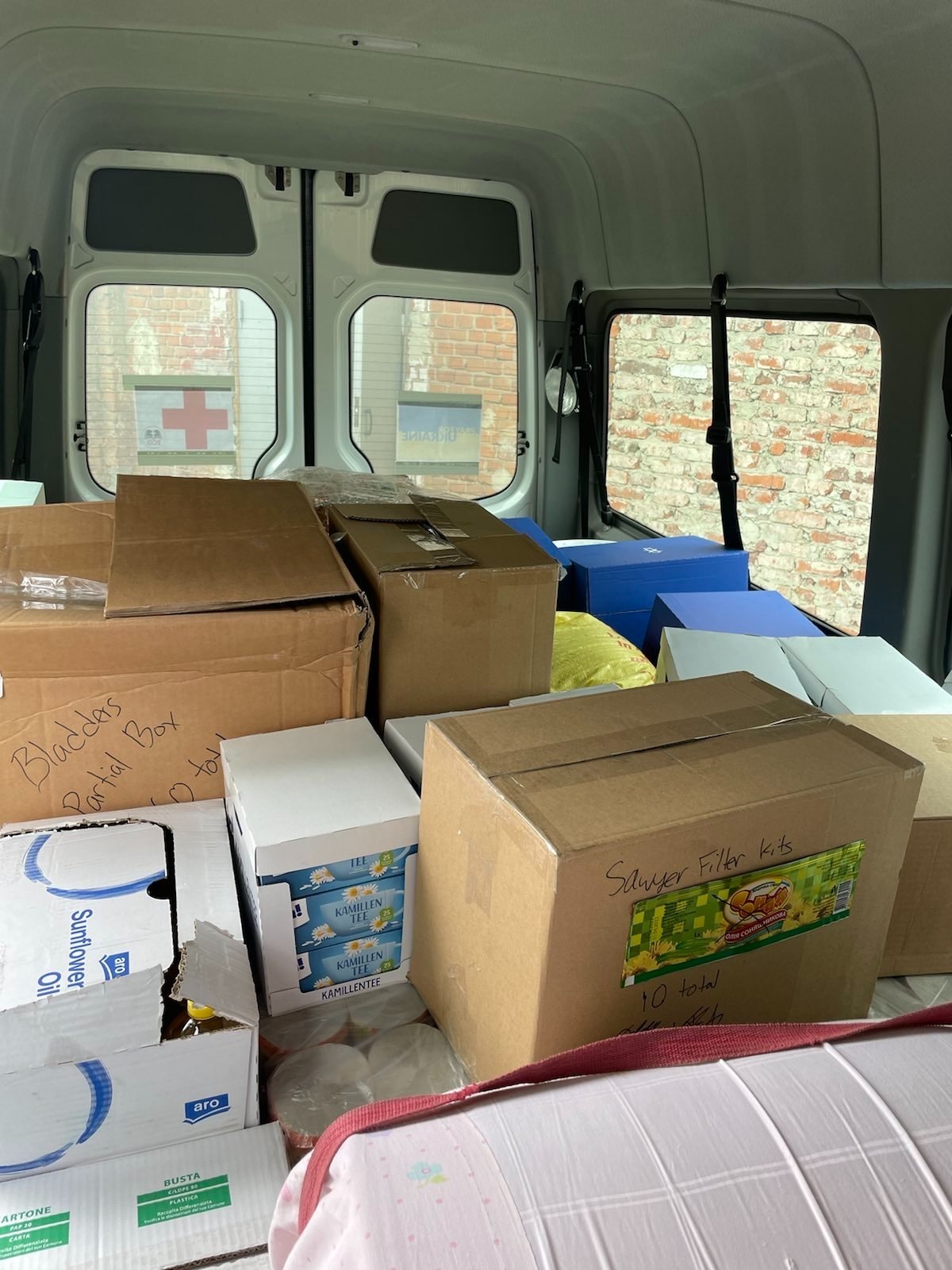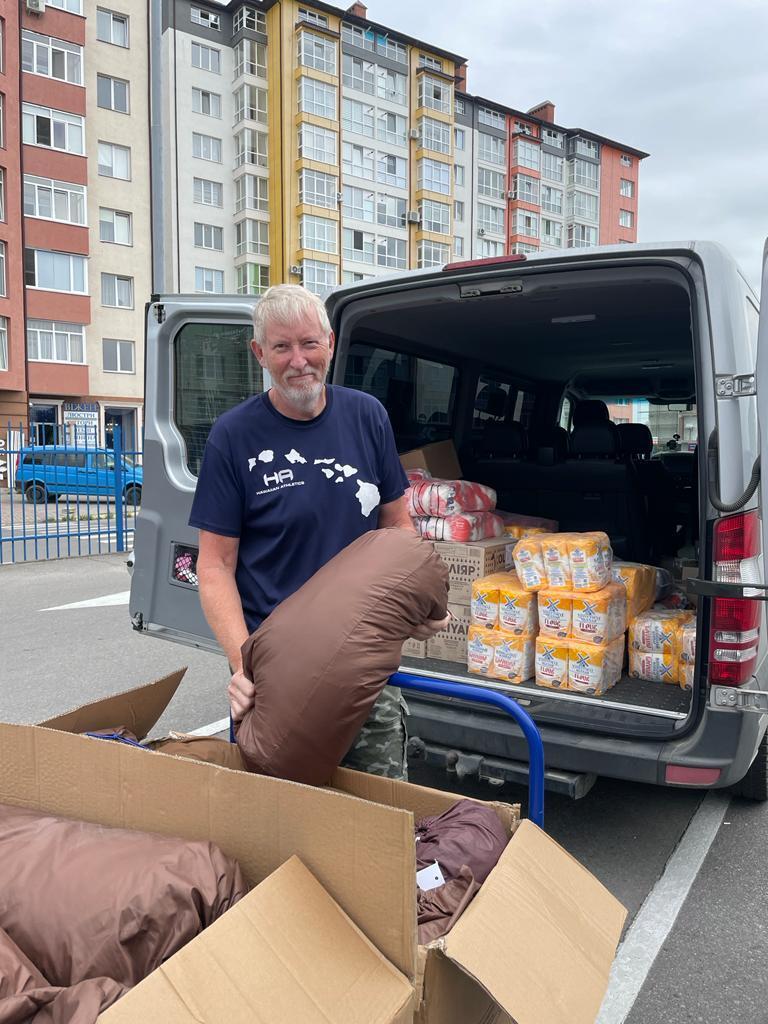 There has been a request for bedding to help keep warm for those areas in the east that are likely to be cut off from electricity and gas this winter. So we invested in 20 good quality sleeping bags to take to the Mykolaiv area, when it is safe to do so. If they seem to be what they want, we know now where we can get more, at a discounted price.

We took all these supplies to a warehouse space that Oleg and his team have secured for the purpose. There, we off-loaded all that we had bought and organized it in order to more easily draw out what is needed in appropriate quantities for each load to go.

Finally, in addition to the above, we purchased fresh meat, bread, tomatoes and watermelon to take for a kebab BBQ to the "House of 64."

Once there, we were welcomed at the gate like heroes, with kids running, shouting and grinning broadly. Yes, they were expecting us.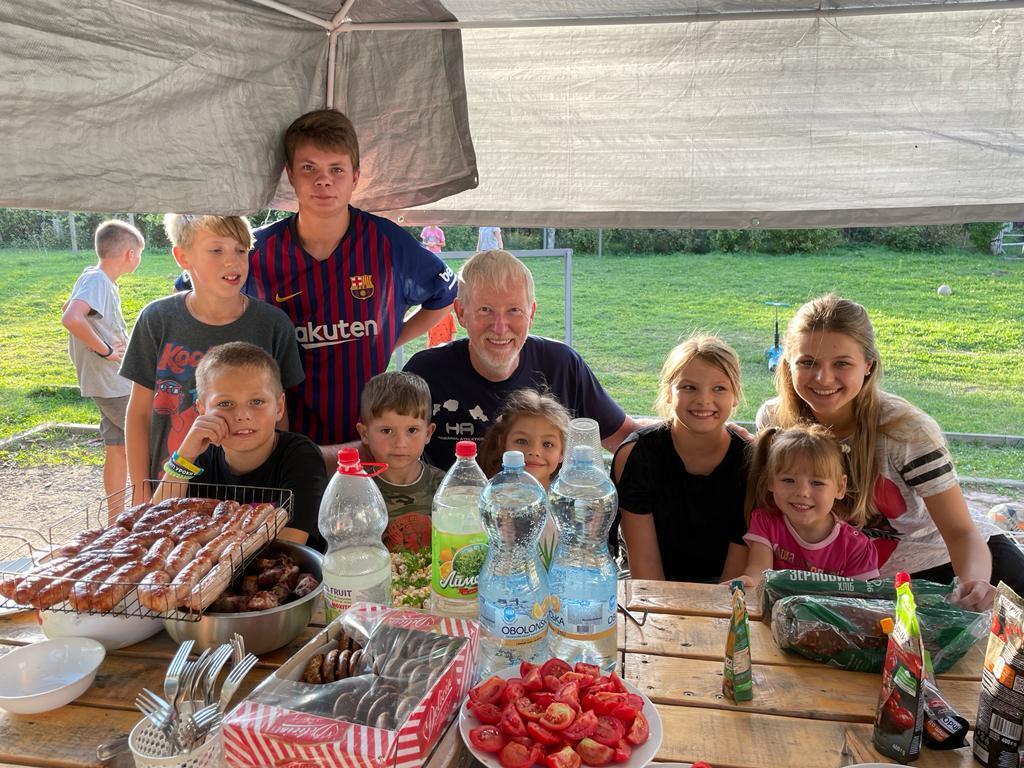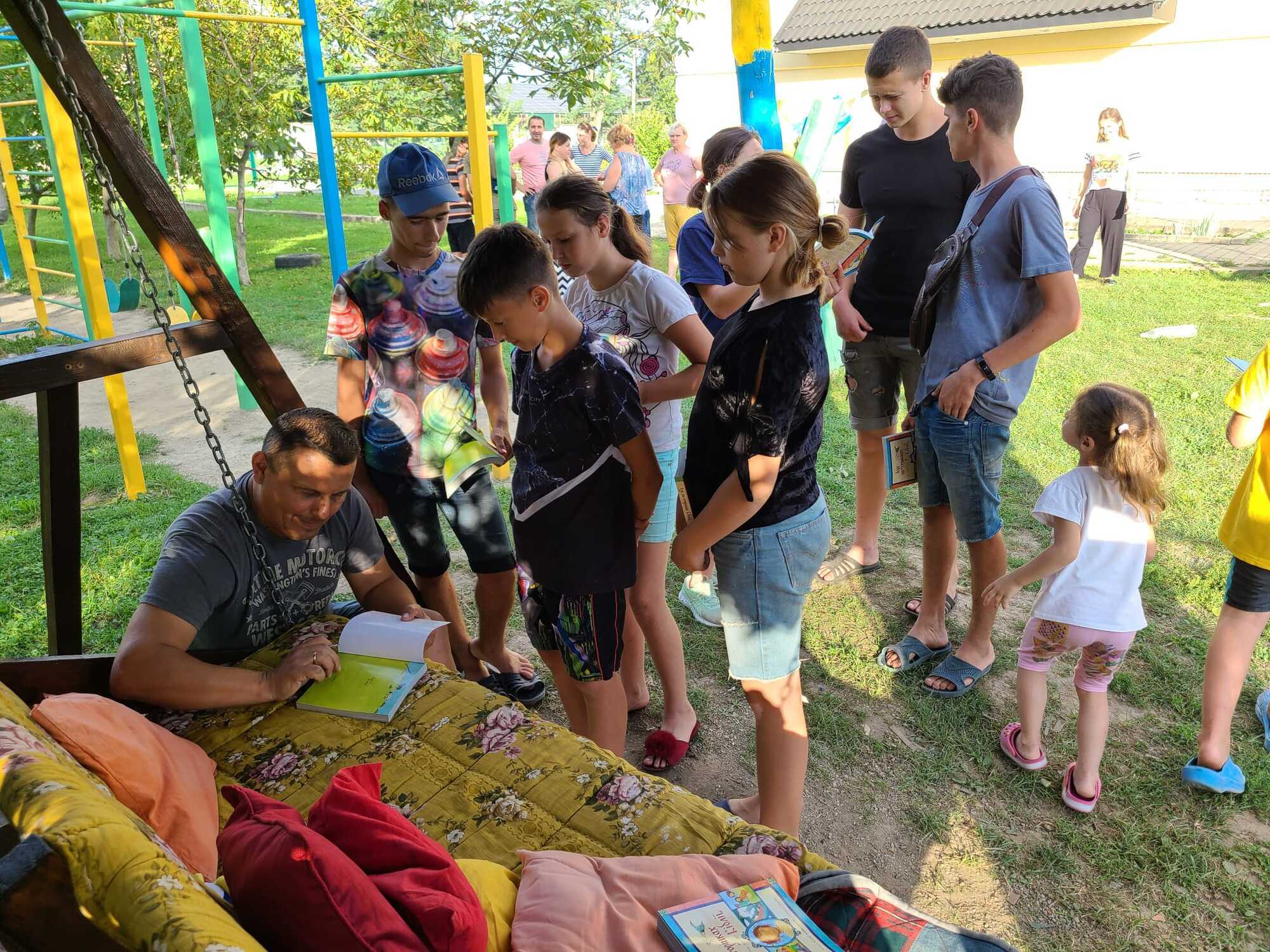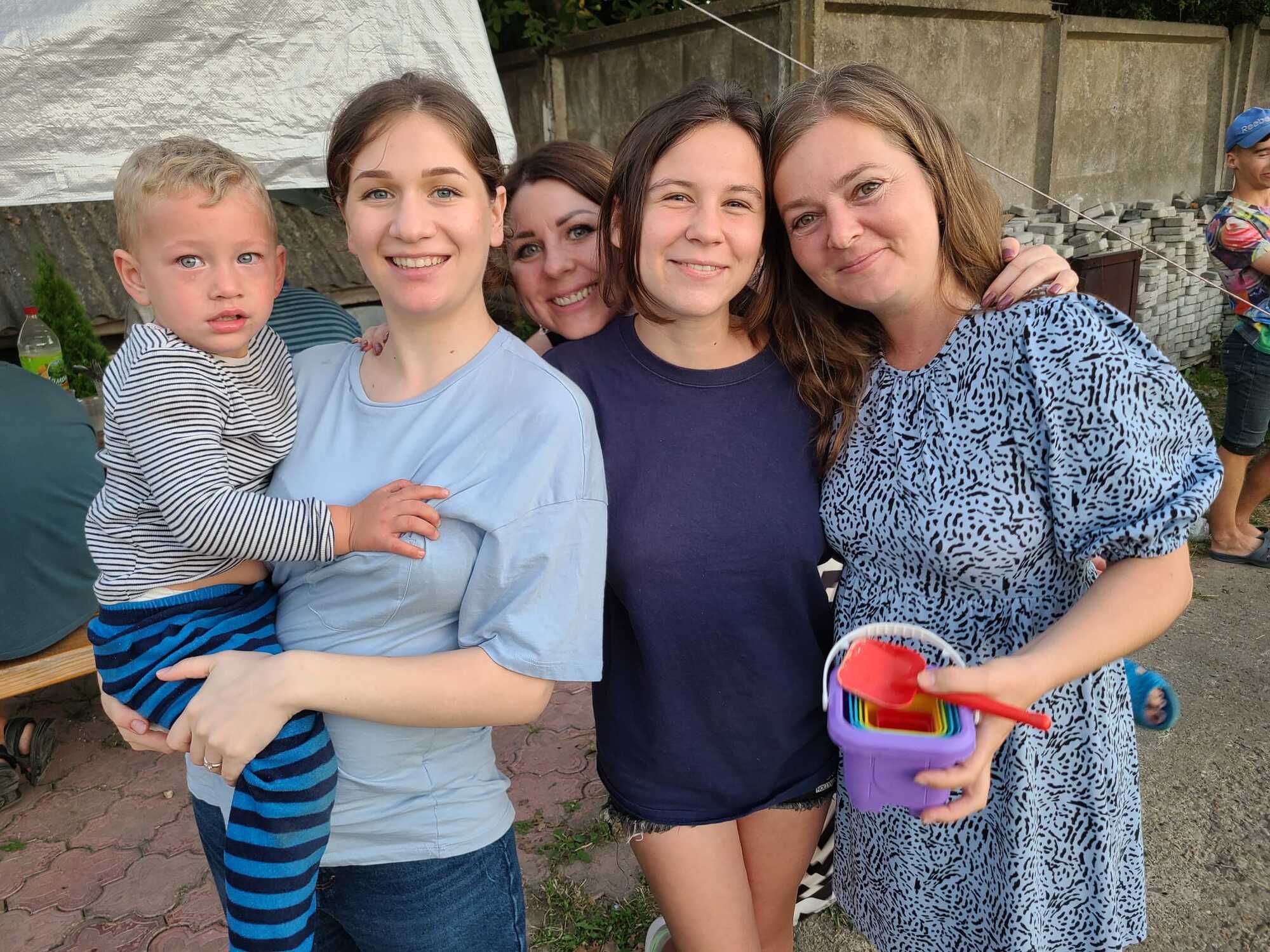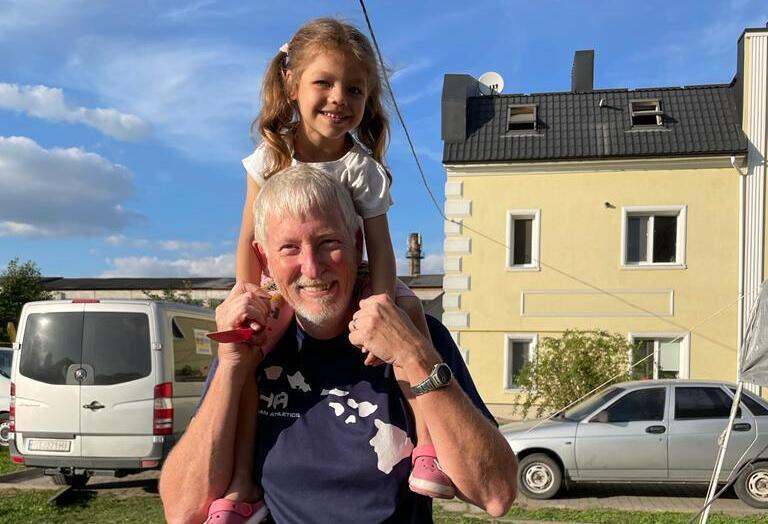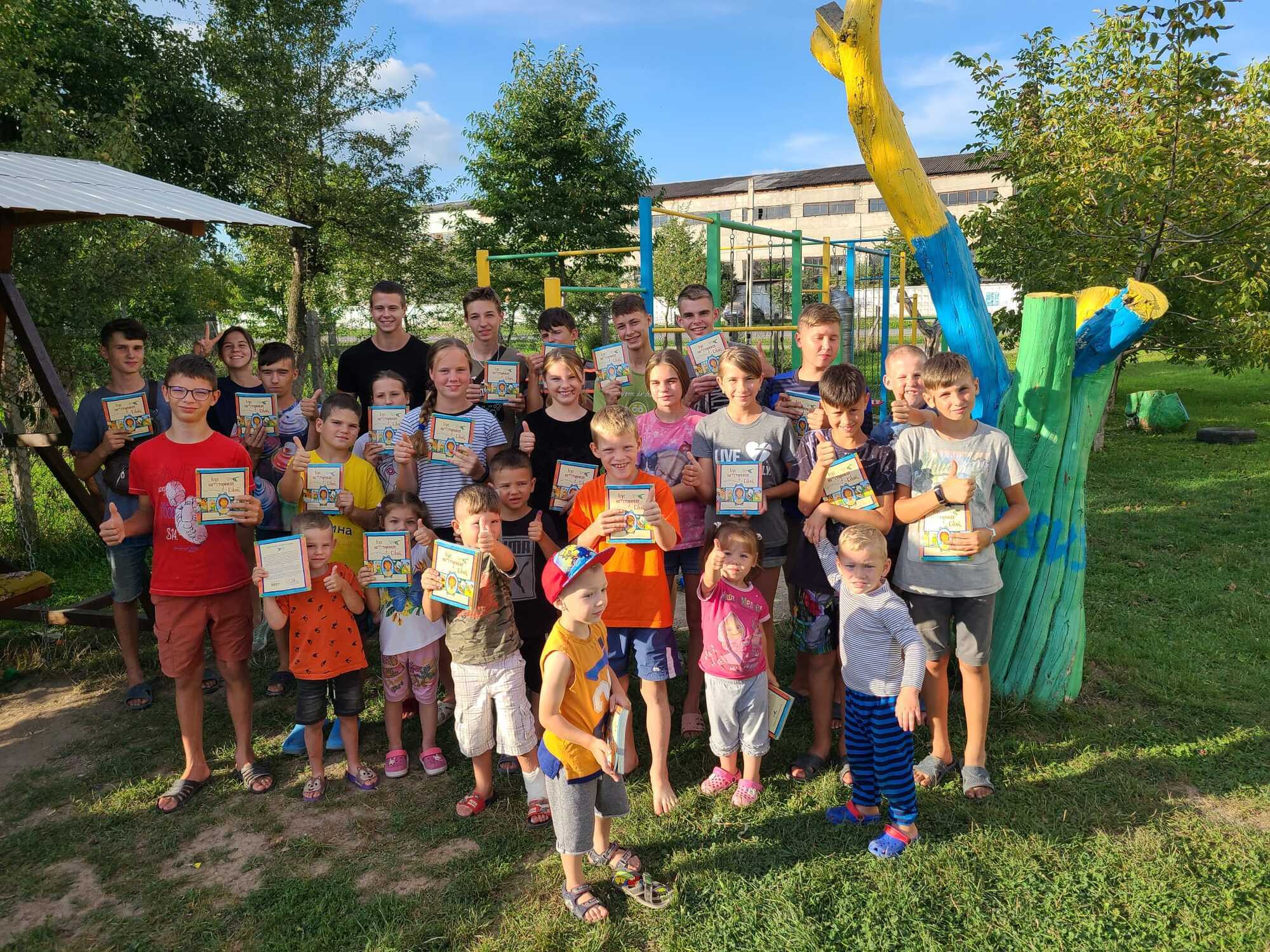 Near as I could count, with kids running everywhere, there were about 40 of them, ranging from 2 to 17 years. Then another 15-20 adults, mostly women from 20-55 years of age, and a few men who were there to run the place, provide protection and do what they could to help with various things the families needed.

While the dinner cooked on a makeshift barrel stove, we were able to distribute illustrated Story-book Bibles, one to each child, up to about 17 years of age. Pastor Oleg wrote the child's name and dedicated each book to each child. It's a beautiful edition of the book, translated into Ukrainian, of which I was able to obtain 200 copies, for distribution to children, along with food that is heading to eastern cities and enclaves.

A few spoke haltingly in English and apologized for not being able to speak more fluently. I encouraged them to be brave, that their English was better than my Ukrainian.

I said in a small group that I wanted to hear their stories, that I might be able to take their stories back to Canada, so that we would know better how to pray.

A woman named Marina stepped forward and said that she would like to tell her story, and proceeded to tell me, through interpretation that her husband, a soldier, had died in May. She has two boys, one is 16 and one is 8 years old. She made her way to this house in April and knew no one, and now, they are all close and have become her family.

I learned while here that the children of this home are primarily, but not exclusively, orphans and/or adopted. I will include a photo of a little girl on my shoulders. She and her sister are about 3 and 4 years old and were adopted only 3 weeks ago. Their mother had died and their father had abandoned them. They were taken into the care of a husband and wife who were fleeing west and ended up in the house we were helping. The adoptive mother said the girls had been frightened to death by events of the war but were coping well here in this place, having been here just a short while.

Looking around, I saw and felt great hope and courage from this lovely "family." We ate with them. We sang with them. They wanted to know about Canada. They wanted to say "thank you, Canada," for caring enough to want to help.

At dusk, we left, having known that we had done something important for these people ... and for ourselves.

I came to hear, to learn and to understand. Today, we saw and touched the open wound of this war, and saw how it ravages those in its way. But we have also felt the heart of God for His people. This house full of souls have been rescued from terror and uncertain death. May God continue to have mercy on them ... and untold others whom we have not yet met.

A footnote: we had planned for a trip to take supplies to the Mykolaiv area, but while speaking to some in the home yesterday, they made a call to relatives there and confirmed that it is too unsafe to make such a journey right now. They are constantly being shelled in that zone ... and they said to wait for a better day.

The food, supplies and sleeping bags are all ready to go. We wait.

And today, while we wait, Oleg and I went to his parents' home and hiked a hill near the property ... a place that Oleg enjoyed when he was a kid. When we returned to his mother's yard, she had prepared an absolutely amazing lunch for us. All of it came from her small farm.

Meanwhile, back home in Ivano-Frankivsk, the air raid sirens sounded off again, reminding us all of the darker side, somehow just out of sight.

Onward ...
Ian
---
September 3
It's Saturday afternoon ... and we headed into Ivano early, a few hours ahead of worship practice.

I was invited with Oleg and Diana to something that was billed as a meeting of Christian youth. Oleg had been invited to bring a short devotional.

Turns out it is a seminary with 20 students, that managed to escape and relocate from the eastern city of Kherson (currently occupied and largely destroyed) in the east to Ivano-Frankivsk.

They, their instructors, some of their families and several local pastors and officials had a meeting room in an apartment building where they sang, prayed, and heard about 8 mini-lectures or sermons.

The first was from the director of the seminary, who said that, before convening today's inaugural meeting of their Kherson Seminary, now in Ivano, he wanted to give tribute and have a solemn time of prayer and reflection for the estimated 87,000 people that have died during the siege of Mariupol.

He then took a large beautiful glass plate, wrapped it in a white linen cloth, which to me seemed reminiscent of the shroud on the body of Christ, and smashed it on the marble floor. He then stood in silence for a time before quietly saying; Amin.

Some families sat huddled, parents with younger siblings, with tears flowing freely.

Each pastor and seminary leader in turn offered their thoughts and devotions, passages of scripture.

This was their inauguration of their Seminary School year ... the Kherson Seminary in Ivano-Frankivsk.

How beautiful.

I whispered to Oleg that I would like to offer something to support these students financially. He was certain that this should be shared from the front.

He spoke with the seminary director, and moments later, I found myself ushered to the front, and with translation offered by Oleg, brought greetings from Canada.

I said that I had come to see and to learn and, if possible, travel further to the east, where suffering has been most severe..

As that has become impossible at the current time, God has seen fit to bring me to a place where the east had come westward and has allowed me to see first hand ... their faith and dedication.

I told them all that the financial support was not from me, but from all the Canadians who have a heart for Ukraine and wanted people in this country to know that they are not alone.

The amount that was committed to each student was just enough for a warm winter coat or a good pair of boots ... both things they were not likely to have packed in a hurried escape from their home.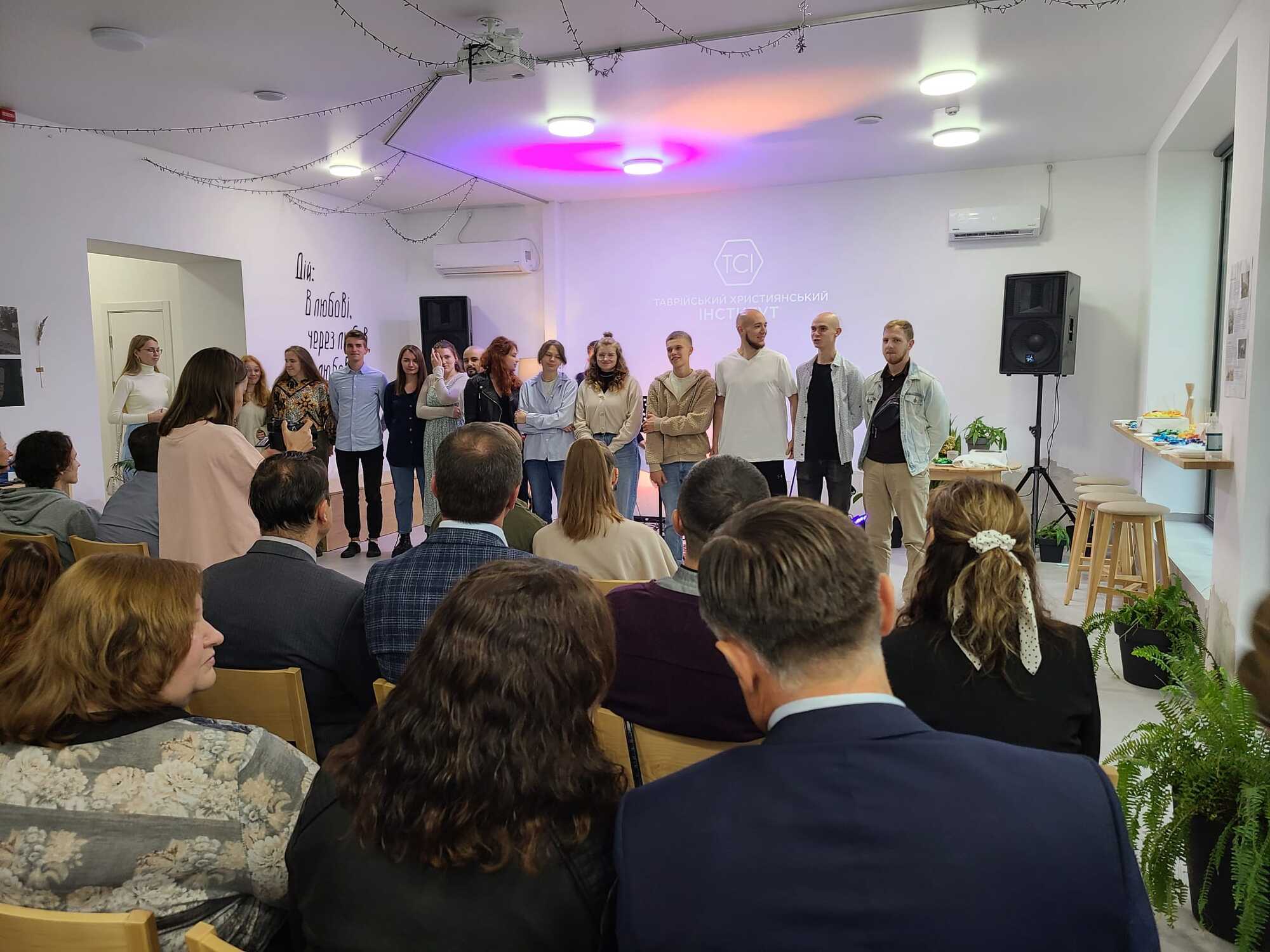 Upon reflection, I think I have found two ministries in the Ivano area that are worthy of additional support: the House of 64 ... and now the Kherson Seminary in Ivano-Frankivsk.

We will do this .... and continue to send food, sleeping bags, humanitarian supplies to the east. Yesterday, we loaded (overloaded?) a large 15-passenger van, ready for Mykolaiv. Logistics and missiles both have prevented the van from going just yet, but it is parked securely at the church, loaded, full of fuel, waiting for the all-clear to go. That will hopefully happen in the coming week. Pray for these guys when they make the trip. They are all young family men, active in their church, with kids to raise and businesses to run ... but their dedication to serving their Lord is the foundation for it all.

It's impossible to miss their sense of purpose in it all.

I am nearing the end of my time here.

I have been in my own personal seminary these weeks, directed by circumstances not in my control or influence, really.

I leave here on Monday, beginning my trip homeward.

But tomorrow is Sunday.

Communion.

I will treasure it.
---
Ian returned to Canada on September 7 ... and after some time out to reconnect with family at home in Langley, Ian has returned to sharing with others, regarding his time in Ukraine.
If you have read this far, God bless you. Please know that the need in Ukraine is greater than ever, as the Ukrainian forces liberate cities, towns and villages that lay in ruins.
---
Update: 2022-10-05
As we write this letter on October 5th, Pastor Oleg and friends are travelling with two 15-passenger vans, one of them pulling a trailer, and travelling from western Ukraine all the way to a small village called Vovchansk, in the extreme north-east corner of the country. It took two days' travel to get to the city of Kharkiv where they spent the night, before travelling to Vovchansk. The city of Kharkiv was hit with two missiles the night Oleg and team were there.
Oleg wrote to us yesterday that they were expecting the last few miles into Vovchansk to be difficult because there is nothing much left of the road. Until just weeks ago, this area was under Russian control. Now liberated, there is virtually nothing there for the people, and the route to travel there remains dangerous due to unexploded ordinance.
And still, Pastor Oleg and team have determined to make the trip, before winter sets in, in this remote corner of the country, literally within sight of the Russian border.
We write these things that you may know that your contribution – whatever it may be – is being put to invaluable use, on the ground, in Ukraine. The funds are, quite literally, saving lives there. Lack of food, medication, disease from lack of clean drinking water, exposure to the elements as winter approaches – these are all being addressed in whatever ways we can.
We know that a number of you have taken a personal interest in what we have called the "House of 64." Please know that we have made supporting this home full of refugees our highest, single priority. Having been there, we can tell you that their stories are heart-wrenching … and yet, together, though most of them have lost many or all family members to the war, they have found family in fellowship with each other.
If you have a heart for suffering people of Ukraine, but choose to contribute elsewhere, please do so .. and be at peace. However, if you're looking to find a way to be certain that 100% of your contribution will make it to Ukraine, without deduction of any kind, then this is it.
All normal deductions and expenses incurred sending funds into the country and put to work – have been covered by generous sponsors and/or waiving of fees. Funds donated are converted to local currency in Ukraine and devoted entirely to making possible the humanitarian distributions like the ones I have described in this letter.
If you have questions, please reach out.
And for complete transparency: Ian covered his own expenses for his trip to Ukraine. He went to see first-hand the work that is being done with the funds sent, and to help out where he could. When the time is right, he will go again, and once more, will cover his own expenses.
---
A Christmas Update: 2022-12-13
We are so very grateful for all of you who follow this blog. This fall, we set out to raise enough money to provide winter clothing and footwear for everyone in the House. Every woman. Every child. We let that information be known ... and you responded. People in our local church made and sold crafts, creating an amazing result in funds raised and hearts turned to the needs of these "others" this Christmas season. Still others have sent financial gifts.
An Amazing Opportunity
In recent days, an offer was sent our way: A donor would like to make a contribution to match any donations made by others - dollar for dollar - between now and the end of the year. I write this with some trepidation, as I am not a "fundraiser," as you might think of someone in that role. We are just a few people who have been deeply touched by all that we have heard - and witnessed first hand - with the pain and suffering of innocent women and children in Ukraine ... and we decided to do something about it.
However, whether I am a fundraiser or not, I cannot turn away from a genuine opportunity to have those who may wish to contribute to this cause - see their contribution doubled. If you have already contributed or prefer to invest your charitable contribution elsewhere, we bless you.
However, if you are at all considering donating to this work, there has never been a better time to consider a gift. Between now and the end of the year, a donation online (or a cheque postmarked by year-end), all such funds received will be matched dollar-for-dollar, up to a total of $20,000.
Are We Making a Difference?
Have you ever wondered if what you gave made a difference?
I'd like to introduce you to the children in this place we call the House of 64. After we took them shopping, the kids themselves put together this video. As to whether we're making a difference? ... Well, I think they should have the last word on that.
---
Please consider making a generous donation to help the people of Ukraine.
The Good Samaritan. He stopped to lend a hand, when others passed by.